It's Weigh In Wednesday time.
Believe it or not, I have actually been looking forward to this day.
I've been working hard, and I even got in my last chance workout last night.
I walked 2 miles, I did the elliptical for 45 minutes...and then my awesome husband realized that Zumba class was about to start so I ran in there and joined that class. I was exhausted but what a great workout. Oh yeah, and I did Jillian Michaels that morning too, that's probably really why I was tired.....2-a-days!
I always WANT to go to workout classes.
And I have great plans to go, but for some reason I can't ever get there at the right time.
Kids be making me late.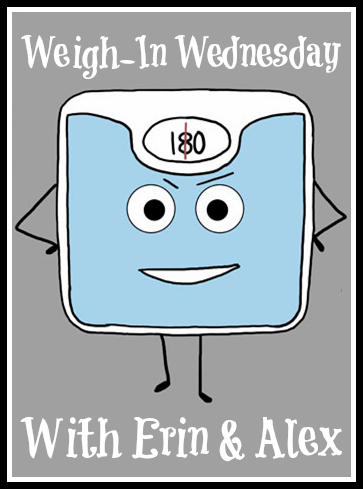 And then, I weighed in this morning and guess what? I only lost 0.4 lbs. Womp, womp.
Surprisingly, I'm okay with this.
I'm fairly positive that Mother Nature was the cause of such a small loss. So I'll be back Danni-style (from the Biggest Loser, don't ya know) with a great loss next week.
The title of this blog reminds me of a science question that I had in probably the 5th or 6th grade. You should know that I am a FAST test taker. I always finish 1st or 2nd. My philosophy is if I don't know the answer now, I'm not going to know it later so why sit here and spend time thinking?? I don't advise this method.
The question was: Which weighs more? A pound of feathers or a pound a bricks?
And almost everyone in class missed it. Go figure. We didn't have time to sit there and think about the answer. 
I can't wait to hear about everyone's progress on this bright and shiny Weigh In day.....remember, summertime is just around the corner!
Happy Hump Day Y'all!!
Pin It Now!